K-HIT Articles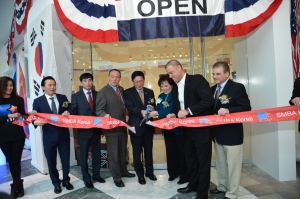 미국 최초 한국 중기제품 전용매장 'K-HIT' 오픈 (America's First Korean Product Store 'K-HIT')
December 23, 2012 - (대전=뉴스와이어) 2012년 12월 23일 -- 중소기업청(청장 송종호)은 미국 뉴욕인근의 고급쇼핑몰인 Garden State Plaza Mall에 중소기업제품 전용매장인 'K-HIT' 매장을...
중기청, 뉴욕 인근 쇼핑몰에 中企 전용매장 오픈 (SMBA Opens a Store at Shopping Mall...)
December 23, 2012 - 중소기업청은 미국 뉴욕 인근의 고급 쇼핑몰 가든 스테이트 플라자 몰(Garden State Plaza Mall)에 중소기업 제품 전용 매장인 K-HIT를 개설했다고 23일 밝혔다....
K-HIT Korean Store Offers Sneak Peek at Garden State Plaza
December 21, 2012 - The K-HIT Korean imports store at Westfield Garden State Plaza in Paramus held a grand opening celebration Thursday with several dozen South Korean businesspeople and trade officials...
Korea Premier Products Showcase 2012 to Follow Grand Opening of New K-HIT Plaza Store
December 20, 2012 - Showcase will give local buyers, sales reps, product developers, and merchandisers the opportunity to meet with executives from top Korean executives in town...
Mall Store to Showcase Made-in-Korea Merchandise
December 13, 2012 - A Korean business group that wants to show South Korean products can make it in America has picked one of America's busiest malls – Westfield Garden State Plaza...
The Best Of Korea Arrives In The Garden State Just In Time For The Holidays
December 12, 2012 - The Korea Export Association (KEA), an expert consultant group of Korean small and mid-size enterprises, is pleased to announce the opening of K-HIT...
중소기업청, 뉴저지에 한국 상품 전용매장 K-HIT Plaza 그랜드 오픈 (SMBA Holds Grand Opening of Korea Product Store...)
December 11, 2012 - Korea's excellent products can now be found in the United States, including New Jersey's K-HIT...
Media Contacts
Journalists: Please e-mail us for information or call 201-244-0300.
Media Tools